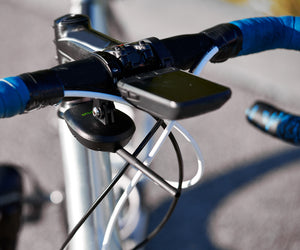 NEW!
AEROPOD V5
GO FASTER, EASIER
BUILT, PROVEN, IN THE USA.
All Velocomp products are designed, assembled, and shipped from the USA, letting us make you this promise: if you're not delighted with your purchase you can return it within 30 days for a full refund.
Choose Your Power
The VELOCOMP power meter comes in 4 different models. Use this chart to help you learn more and compare each product.
View All Products
*Requires PowerPod Lite to PowerPod ANT+™ / Smartphone UPGRADE
PRODUCT FEATURES
PowerPod®
Lite ($249)
PowerPod®
V5 ($299)
AeroPod®
 V5 ($399)
AeroPod+®
V5 ($499)
Both-leg power measurement
ANT+™ / smartphone compatible
Smartphone setup
Bike profiles allowed per device
1
4
4
4
Velocomp Isaac Software Analysis
OPTIONAL*
Pitot tube wind measurement

OPTIONAL

GPS Tracker

OPTIONAL

Powerstroke Analysis

OPTIONAL

OPTIONAL

Live CdA training mode
Live CdA testing mode
Isaac CdA Analysis software
Get Expert Help.
VELOCOMP FORUM
Find help from experts and users who can assist with product and software setup, usage and analysis.
Join today
DC Rainmaker: POWERPOD REVIEW
Overall, I've found that the PowerPod can be solidly accurate in most situations, assuming you are aware of the limitations … I'd sum it up as: If you do a clean calibration ride – things are impressively accurate across a wide range of riding environments and positions." - Read Full article